In today's competitive environment, businesses need high-quality services and products in order to improve their customer experience. This is done through the use of a quality assurance process, which ensures that the products or services that they choose meet their specific needs. Quality assurance is a process that can help businesses reduce their costs and improve their customer service. It can also help them identify the factors that cause their customers to churn.
QA services are economical and can significantly improve your brand's reputation. This service is now required by all types of businesses, including startups and remote businesses. According to Wikipedia, ISO 9000 defines QA as a component of quality management that focuses on ensuring that quality requirements are met. Before we go any further, let's define what Quality Assurance is.
What is Quality Assurance (QA)?
Most business owners' first question about quality assurance is, "What is quality assurance?" Quality assurance is a systematic process that determines whether a product or service meets predetermined standards. It aims to improve the development process's effectiveness and efficiency while complying to quality standards.
Benefits of QA in Businesses
QA gives you access to a variety of benefits. It is mandatory for all types of businesses. Let's take a look at some of the advantages of quality assurance.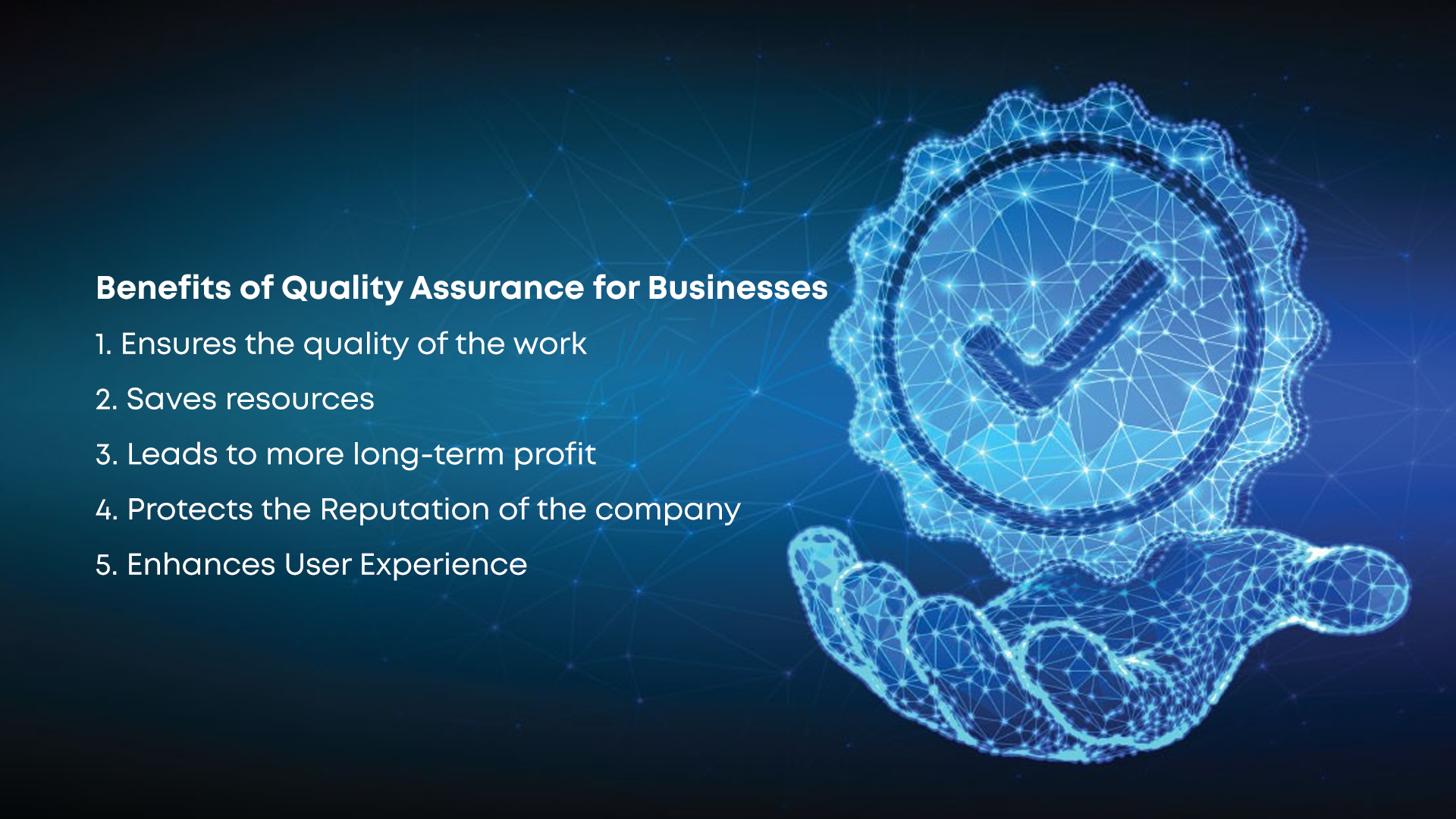 1. Ensures the quality of the work: Quality assurance ensures the quality of products and services. It monitors the process and procedures to assure quality and determines whether the task is done in a consistent manner. Because it is a process-oriented activity, and QA work begins as soon as the project begins, it assures that the product or service meets the customer's requirements and expectations.
2. Saves resources: It takes longer to rectify problems if they are allowed to happen. As a result, starting QA work as soon as the project begins will aid in bug prevention and result in significant time savings. Furthermore, spending money on prevention rather than repair is less expensive. As a result, it also saves money in the long run.
3. Leads to more long-term profit: By preventing the waste of resources such as time and materials, quality assurance allows businesses to generate more money. Furthermore, it increases a company's market competitiveness. Because customers are willing to pay more for superior quality, many businesses can raise the price of their products.
4. Protects the Reputation of the company: The quality of the products you bring into the market will eventually determine the success of your company. Customers will analyze the products. If these products fail to meet customer expectations, they will earn a bad reputation.
5. Enhances User Experience: A strong user experience needs QA to ensure usability. Because several quality concerns affect the overall UX as well as the user interface itself. Utilizing a third-party user experience evaluation will assist businesses in improving their products and services. Furthermore, because the business will be examined from a third-party perspective, biases will be avoided.
Quality Assurance in Remote Businesses
Every business, whether offline or online, needs to continue making an effort to guarantee quality. Therefore, distant businesses need remote QA services from nearshore and offshore, such as remote usability testing, performance testing, accessibility testing, and so on to ensure quicker releases.
Today's world needs to get into the habit of using top-notch QA services because they offer assurance for the future. A business must constantly be prepared to stay steady and maintain high quality because mistakes can have unexpected consequences. As a result, in order to meet the expectations of their clients, remote businesses must leverage services provided by skilled QA teams.
How QA Can Help to Grow Small Businesses or Startups?
The products and services a business offers determine whether or not it will be successful. Without a robust QA system, business owners have no way of knowing how customers view their brand. Therefore, in order to achieve the most accurate and successful results, small businesses or startups should consider investing in professional quality assurance services. QA presents a unique opportunity to deliver exceptional customer experiences and consequently drive business growth. You must guarantee that your goods and services will satisfy customers completely by resolving their problems. Establishing a strong reputation for your business or startup requires strict attention to QA. To ensure that employees uphold your specified standards, you can monitor their performance. In addition to all of these, every business should emphasize quality above quantity. This may be done by implementing quality assurance (QA).
Some often asked questions or misunderstandings about QA.
Are QA and Testing the Same Thing?
Many people believe that testing and quality assurance are identical phrases. There are, however, a few noticeable differences. In reality, QA covers much more than testing. Quality assurance is a considerably broader topic than testing since it tackles both the inputs and outputs of product delivery, increasing the likelihood of success. They do, however, share a common goal: to ensure that a high-quality product is generated and delivered to the consumer.
Can Developers Play the Role of QA in Software Companies?
Many individuals are curious as to whether developers can handle QA-related tasks. Is it a legitimate and successful method? Even though it's not impossible, this is obviously not the best way to guarantee quality. When preparing something new, you eagerly anticipate feedback from others. You wait for their compliments or suggestions. Exactly the same thing happens when you create something. To guarantee quality, some other people's viewpoints are necessary. As a result, someone testing a product they created may unintentionally or subconsciously bring bias into the testing process. They could also skip over insignificant matters. Additionally, only the indicated functions will be present in a developer's testing environment. On the other hand, QA testers have the necessary training and experience for the job. They will examine all the additional areas that the given functions may have an impact on in addition to the functions themselves. Both the positive and negative testing is done by the testers. So, it is the standard way for any business to let the QA testers play their role to ensure quality.
Conclusion
The phrase "quality assurance" has a broad definition and has been adopted by different firms in different ways. Every business requires a competent QA system since customers judge every business on its goods and services. The main goals of integrating quality assurance into a business are to stabilize the business, improve process results, and increase customer satisfaction. The QA procedure also minimizes the possibility of errors while guaranteeing the integrity of your goods and services. It guarantees that everything that leaves the business is worth the consumers' money and time. Therefore, QA is certainly crucial to the growth of your business.